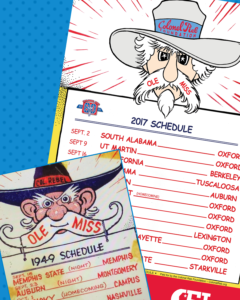 2017 Ole Miss Football Schedule, from the Colonel Reb Foundation
The 2017 Colonel Reb Foundation throwback football schedules are now available for purchase.  This year's schedule features the official, unofficial mascot; and salutes the 80th anniversary of the birth of Colonel Reb at Ole Miss.  The design is also a tip of the Colonel's hat to the 1949 schedule.
 
Each order of the 19.5"x12.5" collectible schedules also comes with a 5" vinyl Colonel Reb bumper sticker.  The football schedule fundraiser is just one of the ways the Colonel Reb Foundation raises money to help pay for billboards, lapel stickers, funding to get the Colonel mascot to Rebel games, and more.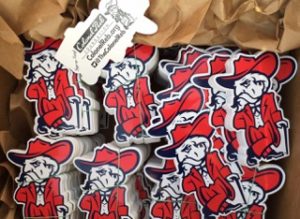 COLONEL REB BUMPER STICKERS
Put a collectible 5-inch tall vinyl bumper sticker featuring Colonel Reb on your automobile, laptop, etc.  Shipping and handling included.
---
For hundreds of Colonel Reb Foundation items, visit
Colonel's Gift Shop